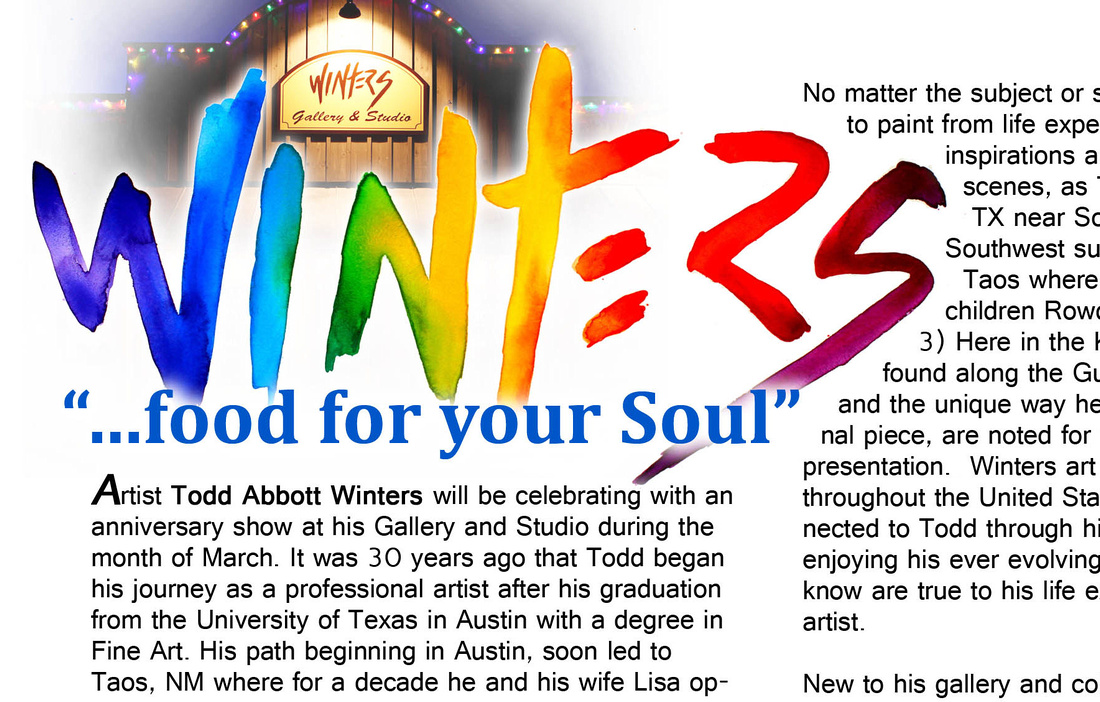 Taking place on March 1st, in just two weeks to the start and the reception for my anniversary show at THE WINTERS GALLERY in Ingram! I thought I would share this feature story to be printed soon in THE HILL COUNTRY HAPPENINGS magazine. The theme for my show, which runs through the month of March is....food for your Soul! I'll copy the story as it reads below....
"…food for your Soul"
Artist Todd Abbott Winters will be celebrating with an anniversary show at his Gallery and Studio during the month of March. It was 30 years ago that Todd began his journey as a professional artist after his graduation from the University of Texas in Austin with a degree in Fine Art. His path beginning in Austin, soon led to Taos, NM where for a decade he and his wife Lisa operated their own art gallery, and now here to the Kerrville area where Todd opened his first gallery space on the Old Ingram Loop 10 years ago this month! Now relocated in his newly renovated and expanded 2,000 square foot space, formerly Don Atkinson's Boot Shop, his new studio offers the necessary room to showcase his large canvas paintings and photographs. Shares Winters, "This is a very exciting time to have a gallery on the Ingram Loop. Six new businesses have opened recently and more have announced plans to open this Spring, including the new restaurant, Fork and Knife, featuring Chef Brian Keeth, which will be located right next to my gallery! The Loop will quickly become the destination for fine dining and shopping in the Hill Country but with a very personal touch. You won't just be strolling an art district, you'll be meeting the artists, owners, chefs of each place you visit which adds the most memorable and personal experience."
That personal touch is a Todd Winters trademark. Meeting the artist and watching him work is a rare gallery experience, but Winters has operated his own galleries this way for more than 20 years, with an emphasis on a Studio experience not just an art selling experience. Visitors enjoy watching him paint and talking to this talented artist, later following up and seeing his completed paintings posted at his website or on his facebook web page.
Winters is primarily a watercolor landscape artist but he is quick to point out that he likes to push the boundaries every time he can. Says Winters, "I live to step out of my comfort zone and love to approach new subjects often with different styles. Half of my work is realistic, the other half modern. Maybe it's the Gemini in me as so often I am experimenting with Acrylic paintings on canvas as a great change of pace to the Watercolors on paper that I am known for!"
No matter the subject or style, Todd is true to his goal to paint from life experiences. Three of his greatest inspirations are just that; 1) Coastal scenes, as Todd grew up in Harlingen, TX near South Padre Island, 2) Southwest subjects, from New Mexico and Taos where he and wife Lisa moved and children Rowdy and Rayne were born, and 3) Here in the Kerrville area with subjects found along the Guadalupe River. His paintings, and the unique way he floats and frames each original piece, are noted for their affordable, yet stunning presentation. Winters art collectors, notably from throughout the United States and overseas, stay connected to Todd through his gallery and website always enjoying his ever evolving and diverse style which they know are true to his life experiences and growth as an artist.
New to his gallery and collection are his breathtaking and vivid photographs capturing the Kerrville area landscapes. Todd's photographs stop you in your tracks, they are available in a variety of sizes, but often displayed very large and printed on Gallery Canvas! Wall ready, his finished photos are signed, Gallery wrap (where the image wraps around and is printed on the sides of the canvas), that collectors can then purchase, transport home, and hang right on the wall without any extra framing.
At his anniversary show, visitors will see for the first time a blend of original artwork with his photography. An example is Todd using his own paintings in watercolor or modern acrylic abstract coupled with a flower that he then photographs. The juxtaposition of a watercolor or acrylic painting as the backdrop for an amazing close up of a brilliant flower provides for a highly unique image. That Todd can successfully combine his first passion, painting, with his most recent passion, photography, and actually make it work is notable and exciting to see first hand.
The 10th Anniversary Show is not to be missed! Joining Todd in the celebration is his sister, Nenah Stone. She shares the gallery with Todd and her design studio is adjacent to his and features original, specialty needlepoint canvases which she creates and sells across the country (Nenah's website is www.nenahsneedle.com). Todd feels fortunate to share this space and experience with his sister, one of the first family members to support his dream and journey.
Always painting what he feels expressively using emotion, Winters paintings become unique because he is not simply painting what he sees. When asked how to best describe his artwork he states after a pause, " well what I do as an artist is…food for your soul"! "Really that sums it up, as what I create to make a living is very similar to a farmer in that through the course of many months of hard work and dedication I prepare a body of new work…like a crop for a farmer, then taking it with the blessings of God to a market. Then like the farmer with the sale and proceeds from my art show I purchase new materials and supplies, I pay my bills and care for my family to then see the cycle repeat and then repeat again, season after season. Once I recall in a discussion with my then 80 year old Father, I shared this thought I had with him". My Dad said, "well… I can appreciate your hard work and talent, but you are no farmer, and I can not eat your paintings. I do not need them to survive!" I then explained, "Dad I know that….my crop of artwork is food for your Soul."
Don't miss this inspirational collection of work available here in Ingram at the Winters Gallery and Studio, located at 229 OLD INGRAM LOOP #C. The reception will feature the best works from the collection of both Todd and his sister Nenah starting at 4:30 until 7:30 on March 1st and will continue through the month of March. You are invited to come then or anytime as the gallery is open Monday through Saturday 10-6pm or upon request.
For more information, contact Todd at 830-285-1382 and visit his internet website to view all his work at www.wintersgallery.com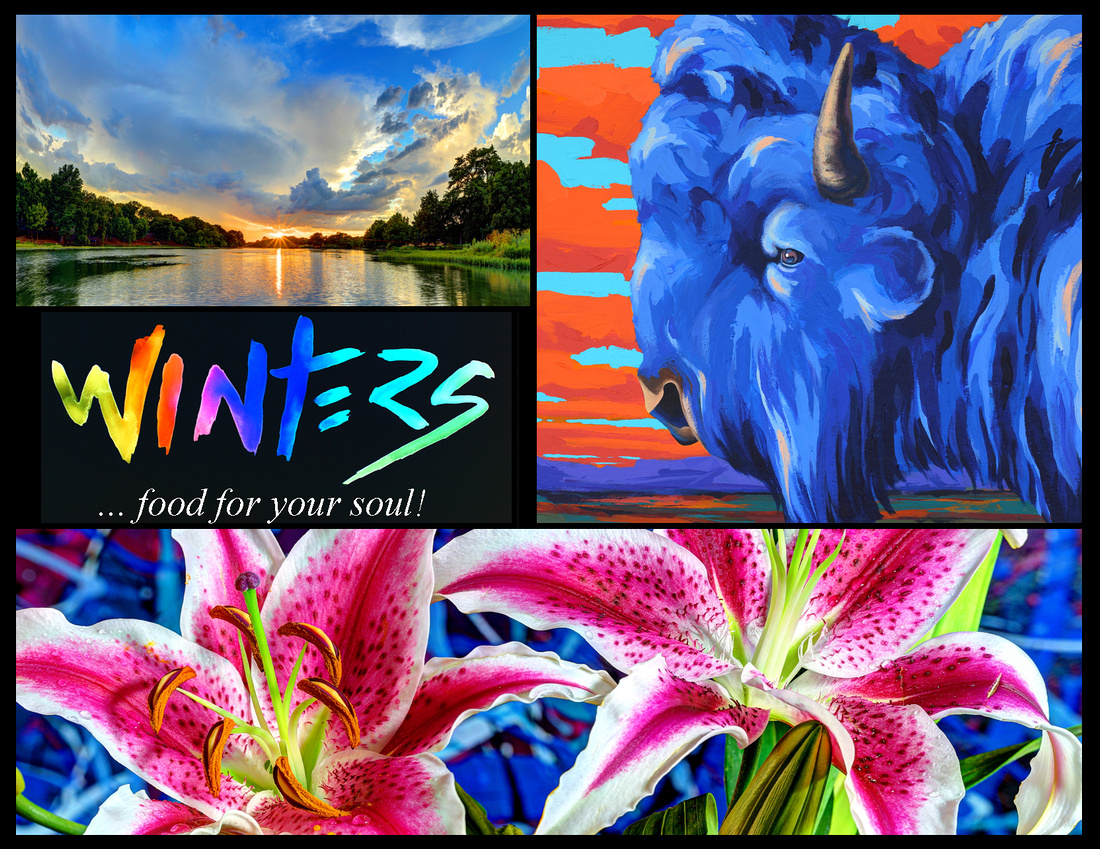 Thanks for reading....and following my work through the website and staying in touch through my emails. I'll update this WINTERS REPORT BLOG more often with weekly updates and photos from the studio and from shows that I attend throughout the Southwest.
So I invite you to become a subscriber to this WINTERS REPORT blog....until then have a great week at work or play! tw